The everything-you-need-to-know-about Google My Business checklist
Have you arranged for your company to be found on Google My Business yet? With stores being closed, companies only partially operational and companies all of a sudden depending on their online revenue, having a profile on Google My Business is no longer a luxury but a must! Below you find the why and the how of Google My Business and how to make sure your organization gets on top of the search results.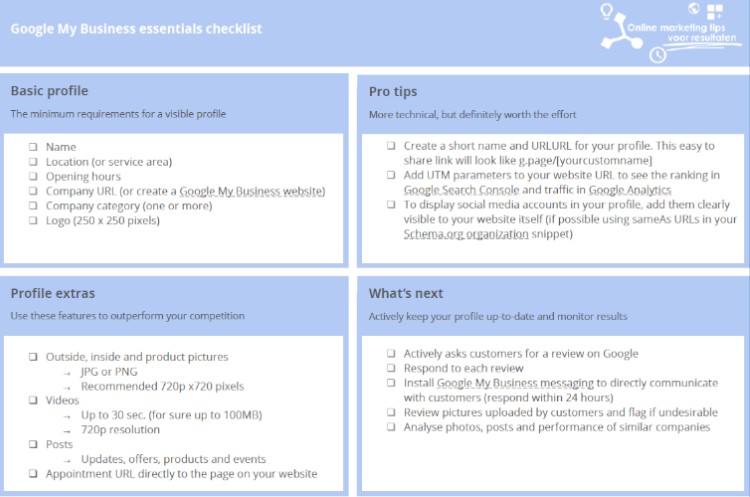 What is Google My Business?
Let's start at the beginning. Everybody has seen them by now, the maps appearing in the search result for almost every search query in Google. For almost every search query a company can be found that offers a product or service that is related to it.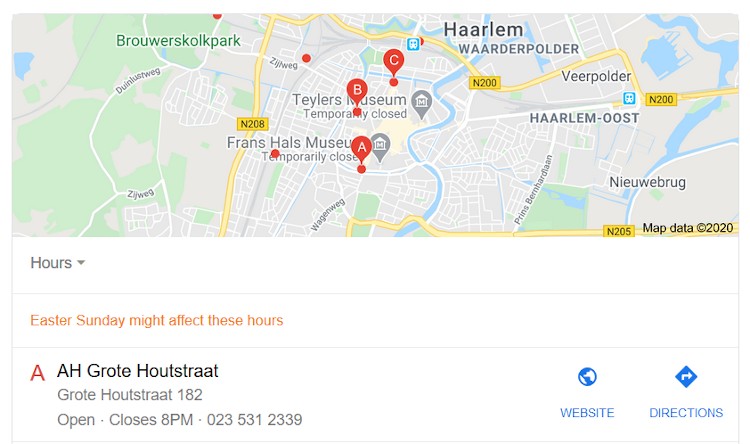 In short, it's a free company profile that helps you put your company in the spotlight on the search results page for potential customers. Customers nearby or customers searching for companies in a specific region.
Why would I use Google My Business?
For starters because it's free. So it's basically an investment with zero risk that guarantees a return on the time you invest. Especially now with people staying home, but also when they are allowed back on the streets, vsibility on the Google Maps map is key to being a succesful entrepreneur. Besides people knowing where to find you, it's also the number one spot to communicate adjusted opening hours and offers.
Do you have a temporary offer or did you start home delivery recently? This is where potential customers will be discovering all about it. Especially as Google adapts the search results (including relevant companies nearby) to the location of each user.
Ok. So how do I register a Google My Business company profile?
With these 5 simple steps you're in.
First go to google.com/business and log in with your Google account.
Enter your company address or the area within which you offer a service.
Pick the categories that best match your company (more is an option).
Enter your website URL (or alternatively your phone number).
In order to verify your company profile, you'll be sent a verification code at the address you entered (only in a limited number of cases you can verify your profile over the phone or per email).
Create your own website in Google My Business
In case you don't have a website, Google My Business offers an alternative. With just a few clicks you'll be able to put together a website that enables you to get found.
How to get found better with your Google My Business profile?
In order to get found better by potential customers, there are a number of extra steps that you need to take. For example, adding pictures, for customers to really get a good impression of your company. Besides a good impression your potential customers need a clear and convincing description of your company to really get the message across.
Note that this description should also include keywords that you are targeting with your website already (i.e. keywords relevant to your product and service and used by your customers).
Another optimization is inviting your existing customers to submit a review. That way, your new customers get a sense of how your product or service is of value to real people. Make sure you respond to reviews so that both sides of the story are shared.
Measuring results of Google My Business
For starters, Google My Business offers various interesting reports with insights about your company profile. From the number of displays to where (in search or on Google maps).


To the kind of search queries that your company profile showed up for. From branded queries with your company name or your address in them to more general search queries. Interesting information to further optimize your free profile and website with.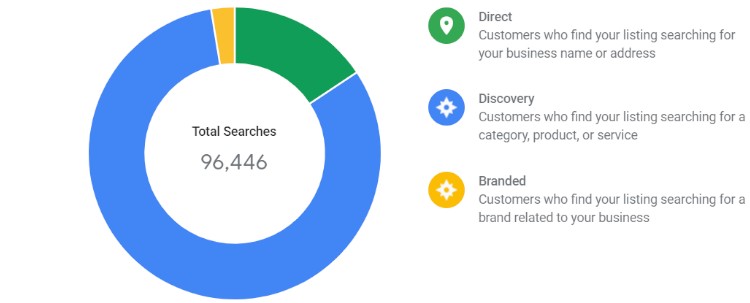 Google My Business Pro tip
In order to capture data about your company profile in Google Search Console and Google Analytics as well, you only need to add UTM parameters in your company profile. Add something along the lines of ?utm_source=google&utm_medium=organic&utm_campaign=my_business to both your generic website link as the appointment link.
Next the campaign report in Google Analytics will show you when traffic came to your website through this link. And Google Search Console makes it even more interesting with the average position in search and the various search queries for which these links (and thus your profile) were shown.
Google My Business essentials checklist
To make sure you're not overlooking anything, I've put together a checklist that helps you make the most of your free company profile in Google My Business. From the basic requirements for a profile to extra's and pro tips for that extra push. In search traffic and insights into how your company profile in Google My Business is performing.
Download it here and invite your local online audience as well to your website and store!